You are here: Home » The RSS Diary » RSS News
RSS News
Debbie Weil's Beginners Guide to Business Blogging
Debbie Weil's manifesto on business blogging gives you the "what, why, and how of business blogging", on just 41 pages, to get you what you need to know in the shortest possible time. While the manifesto is no longer available for free, Debbie has agreed to give you, the readers of MarketingStudies.net, the opportunity to still get it free of charge. Get it here ...
49PM.com just released a mobile application that enables you to read the RSS feeds and view any associated images formatted exactly to the size of your mobile display.
Nooked, an RSS publishing solution provider, just launched a new RSS feed directory, to help prospective readers locate RSS feeds of interest.
Tinu just launched her new Podcasting blog, and already posted a "how to" video on Podcasting. Go take a look.
Useful RSS Applications That Make Life Easier
While readers of this blog might be under the impression that RSS is only good for marketing and content publishing, that's very far from the truth. Surprisingly, and luckily as well, RSS is slowly finding its way in to everyday use and is starting to make our lives easier well beyond "siple" internet content delivery. Library Elf is one of such applications, helping you keep tabs on when you need to return your library material, and even when your holds are ready and when they are about to explire, all this using e-mail and RSS.
Choices: New RSS Aggregators and RSS Publishing Solutions
As I wrote today on Lockergnome, RSS is really all about choices. In the spirit of choices, just today came the news of a new free RSS publishing solution, as well as the news of two new RSS aggregators.
Free Public Preview of RSS Reader for Microsoft Outlook
You Software just released the news that it's inviting Microsoft Outlook users to preview their RSS Reader for Outlook.
Free RSS to HTML PHP Script from NotePage
NotePage, the maker of FeedForAll, a client-side RSS publishing application, just released a free RSS to HML PHP script.
New Web-Based RSS Aggregator from CNET
WebProNews seems to have the exclusive news of CNET preparing to launch their own web-based RSS aggregator, NewsBurst, which will be competing with Bloglines and other similar web services.
Another Client-Side RSS Publishing Application
The Different District reports that Reinvented Software just released a new client-side RSS publishing application, Feeder 1.0.
Recent Articles in "RSS News"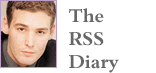 The RSS Diary reports on the developments in the RSS world and on the events surrounding the e-book "Unleash the Marketing & Publishing Power of RSS"
Edited by Rok Hrastnik
RSS Feed for this Blog:
Unleash the Marketing & Publishing Power of RSS

The e-book that is defining RSS marketing.

What is Open Source Marketing?

The International Direct Marketing Fair Report

Affiliate Cluetrain: A New Performace-based Resource