You are here: Home » The RSS Diary » In the Media
In the Media
RSS E-book Feedback That Just Made My Day
Rok, What you did is not fair! You've left everyone else nothing more on the subject of RSS to write about. Now I understand why Pakii calls your book the 'best on the planet' - I agree. It is the most comprehensive, detailed and complete writing on the topic of RSS feed marketing and publishing I've read.
New RSS E-book Review from TopRank
It's nice to see reviews for your e-book come in constantly. Here's the latest, this time from Lee Odden of TopRank: "... the most comprehensive resource for marketing via RSS and blogs ..."
Library Stuff RSS E-book Review
Stephen M. Cohen, a Librarian/Writer/Consultant, and "the" blogger for librarians, just posted a review of Unleash on his blog ...
Huge RSS Marketing E-book Review
One of the first "full" reviews of the e-book just "hit the waves". Are you interested in what the author had to say?
MarketingVOX compares the "detached, rational tone" of the e-book in cotrast to the "sales pages' hard sell copy". Is the "hard sell" really too much and actually decreases the product's value in the eyes of a savvy marketer?
More "RSS Publicity" from the Blogging Community
Direct quotes from many of the sources referencing "Unleash the Marketing & Publishing Power of RSS". It just makes you love blogs ...
On Marketing With RSS Aggregators & Jim Gray's Address to Quikonnex Members
Jim Gray of Quikonnex discusses with his members the quality of most RSS related material on the Web.
Challenge to the RSS Industry: RSS Metrics Standardization
Alex Barnett discusses the problem of RSS Metrics, more precisely the lack of any real standards. The question (and a challenge to everyone) I'm asking is why don't we, the RSS industry, do something about this?
Huge Publicity Generated on Launch
"Unleash the Marketing & Publishing Power of RSS" generated some cool publicity on its first day (and actually some days prior to that, with people beating me to the announcement:). It all came to a climax about 12 hours from now ... And I do love the comments ...
Recent Articles in "In the Media"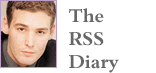 The RSS Diary reports on the developments in the RSS world and on the events surrounding the e-book "Unleash the Marketing & Publishing Power of RSS"
Edited by Rok Hrastnik
RSS Feed for this Blog:
Unleash the Marketing & Publishing Power of RSS

The e-book that is defining RSS marketing.

What is Open Source Marketing?

The International Direct Marketing Fair Report

Affiliate Cluetrain: A New Performace-based Resource