You are here: Home » The RSS Diary » RSS Conversations
RSS Conversations
Marqui Wasn't Ready for "RSS Conversations"
Marqui can well be noted as one of the pioneers of relevant, ethic and transparent use of bloggers to publicize a product for a fee. Of course, some will dissagree:) But now that their program is nearing its conclusion, the question needs to be asked: were they ready to flawlessly implement their engenious plan?
OK, I'm just about to leave for London for a week. I'll try to check my e-mail, so if you need anything, just drop me a note
Have you already implemented an RSS feed? Do you already have an RSS marketing & publishing strategy in place? What have you learned? What mistakes have you made? We want to hear your story and publish it ...
Defining the Role of Dialog Facilitators ... How do They Figure In Your Marketing Strategy?
With the growing importance and need for a corporate marketing role to take advantage of the ongoing blog and RSS conversations throughout the internet, we need to actually define these new business roles and see how we can start taking advantage of them now.
What Does Marqui's "Conversation Coordinator" Do?
What does Marqui's Conversation Coordinator actually do and how far from "dialog facilitation" is it? Is Marqui actually the first company to formalize this role? And most importantly, are we seeing the start of an evolution of a new internet job description?
RSS Content Syndication Powers Online Conversations
As many examples already show, online conversations are not powered only by people actually blogging and communicating, but also through the power of RSS content syndication (automatic), which "carries" the content throughout the internet and creates "countless" new conversation starting points.
A "consumercy" critic "slaps" me for "farting in the breeze" to make RSS accepted as a marketing channel.
Blog Conversation Coordinators
Marqui, the company that pays bloggers to review and blog about their CMS, just hired a "conversation coordinator". Definitive proof that blog (and RSS) conversations are becoming increasingly important ... and increasingly time-consuming to track and react to as well.
Being Different by Saying No to RSS Advertising?
Should companies differentiate themselves by not using advertising in their RSS feeds?
Blog Business Summit - RSS Conversations Live
Hundreds of online conversations, made possible with the power of RSS, going on all at once. That's hundreds of business opportunities to keep up with. The Blog Business Summit generated 20 posts around the world just within the past hour and 17 minutes. A new world of communication ...
Recent Articles in "RSS Conversations"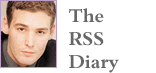 The RSS Diary reports on the developments in the RSS world and on the events surrounding the e-book "Unleash the Marketing & Publishing Power of RSS"
Edited by Rok Hrastnik
RSS Feed for this Blog:
Unleash the Marketing & Publishing Power of RSS

The e-book that is defining RSS marketing.

Bombed Promotion - Back-End Success

What is Open Source Marketing?

The International Direct Marketing Fair Report