You are here: Home » The RSS Diary » RSS Audio Interviews and Conversations
RSS Audio Interviews and Conversations
RSS Advertising: Interview with Bill Flitter, Pheedo.com
We interviewed Bill Flitter of Pheedo.com, one of the leading people in the RSS marketing industry, to get all the key information about advertising in RSS feeds.
RSS Feed Customization: Audio Interview With Mark Carlson, SimpleFeed
RSS feed customization could become one of the hot RSS topics in the near future, but right now there are just too few companies doing it ... and too few providers offering RSS feed customization solutions. SimpleFeed, however, is one of them, and we interviewed Mark Carlson to give us all the details:)
RSS Metrics: Audio Interview with Stuart Watson, SyndicateIQ
In this audio interview, Stuart Watson of SyndicateIQ reveales how their RSS metrics service works, and especially what RSS marketers and publishers can really achieve with relevant RSS metrics. Stuart also discusses the workgroup SyndicateIQ, Pheedo.com and Feedburner formed to provide some RSS ad standards and best practices for RSS publishers and advertisers. Stuart expects to have the standards ready for IAB by 2006. Among other things, Stuart also gives some great ideas on how marketers can take best advantage of RSS.
Audio Interview with Tinu Abayomi-Paul: Using RSS For Search Engine Positioning
We interviewed Tinu Abayomi-Paul to get the scoop on the best tactics of using RSS for increasing search engine rankings, as well as a huge load of tips and tactics for generating traffic using all relevant means available. Tinu shares her best secrets and gives step-by-step instructions to help you get more traffic as soon as possible.
Audio Interview with Paul Chaney: The Pro Bloggers Association, Blogging Transparentcy, Becoming an A-list Blogger and RSS
What is the Professional Bloggers Association? What are its goals? And most especially, how can they help (and plan to help) professional bloggers? What makes for an A-list blogger, and how can one become one of the top bloggers on the internet? What are the exact steps for getting readership and increasing your blog traffic? How to increase your RSS readership? Is there a witch-hunt on for bloggers who promote things with their blogs? Are the "transparentcy police" really here?
RSS, Blogging and PR Interview with Sally Falkow, Expansionplus.com
To bring you the best of RSS and help you make the most of what this powerful content delivery channel provides, MarketingStudies.net is publishing a series of audio interviews and conversations with experts from different fields, which all have one thing in common: RSS. The first expert interviewed is Sally Falkow, a PR expert who discovered how to get from zero search engine visibility to #1 search engine rankings through the use of blogsites.
Recent Articles in "RSS Audio Interviews and Conversations"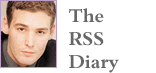 The RSS Diary reports on the developments in the RSS world and on the events surrounding the e-book "Unleash the Marketing & Publishing Power of RSS"
Edited by Rok Hrastnik
RSS Feed for this Blog:
Unleash the Marketing & Publishing Power of RSS

The e-book that is defining RSS marketing.

The International Direct Marketing Fair Report

George Bush and the Parachute PR Stunt

Discounts Do Not Generate Customer Loyalty