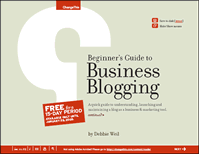 Debbie Weil, one of the most prominent business blogging experts and the author of the "ROI of Business Blogging" e-book, just recently released a free e-book titled the "Beginners Guide to Business Blogging", through ChangeThis.
The manifesto gives you the "what, why, and how of business blogging", on just 41 pages, to get you what you need to know in the shortest possible time.
While the manifesto is no longer available for free, Debbie has agreed to give you, the readers of MarketingStudies.net, the opportunity to still get it free of charge. Debbie, thank you.