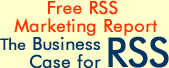 Get the free crash-course in RSS marketing, to find out exactly how you'll profit from implementing this new technology.
Covers everything from RSS for direct marketing to using RSS for SEO.
You are here: Home » Interactive Optimization and Analytics
Defining Online Conversion: Combining Action and Exposure Elements
The conversion rate metric can be used to measure anything you want to track, analyze and optimize, and is by no means linked only to sales or subscribers and your website. Learn how to combine different action and exposure elements to come up with your own conversion rate formulas.
Defining Online Conversion: The Multi-Channel Component
Online conversion is not only the result of online activities. Rather, the conversion process can be initiated by an offline channel, such as direct mail, catalog, flyer, TV advertising, mobile, print advertising and even radio advertising ... or even prompted by brand or retail. How does this figure into our conversion measurement and optimization?
The Quiet Revolution in Teleshopping
The teleshopping industry is undergoing a quiet revolution. Here are the key points I made about a subject at a teleshopping conference in Germany this week.
Defining Online Conversion: The Conversion Time Component
Conversion rate measurement and optimization must also take the time component into consideration. A conversion can happen instantly or over a longer period of time. If you're measuring your purchase/visitor conversion rate, the purchase might happen on the first visit, after a few visits or even months after someone has visited your website, subscribed to your e-zine and received weekly communications from you. What implications does this have for your conversion measurement and optimization?
Defining Online Conversion: The Process Component
The real benefits of conversion measurement and conversion optimization come when you start measuring and optimizing on several levels. We start with macro-actions and micro-actions, and then introduce the concept of Internet Processing, with your internet marketing macro-process, micro-processes and micro-actions. You need to measure and optimize conversion for all of them.
Defining Online Conversion: What Is It?
What is the correct definition of the conversion rate, what does it really tell us, how precise is it and what can we do with it?
How Traffic Sources Impact Test Element Conversion Rates
In the last article of the case against industry conversion benchmarking and simplistic conversion analysis, we take a look at a website testing two elements, and using two traffic sources to do it. What if there is no clear CR winner?
Selling Eric T. Peterson's Books
Eric T. Peterson continues showing the practical implications of his visitor engagement metric by analyzing his own website, questioning what he can do to increase the sales of his books to visitors referred to his site by some of the bloggers that are delivering traffic with high engagement but low sales conversion. Let's try some basic optimization techniques ...
I Want a Lower Conversion Rate!
When is a lower conversion rate better than a higher one? A case in point ...
Conversion Benchmarking Hell, Part #2
What happens with conversion rate benchmarking when we start figuring in advertising costs, revenues, CPOs and profitability? Does it still make sense to benchmark against industry standards?
Recent Articles in "Interactive Optimization and Analytics"

Conversion Benchmarking Hell, Part #1

My Online Analytics Reading List

Why You Should Pay Attention to the Interactive Optimization and Analytics Blog
Internet Optimization Blog
Interactive Optimization and Analytics Blog focuses on practical strategies and tactics on optimizing your internative marketing mix, from traditional direct to online, including channel integration, e-commerce and processes.
Edited by Rok Hrastnik
---
RSS Feed for this Blog:
---
Unleash the Marketing & Publishing Power of RSS

The e-book that is defining RSS marketing. Click here
---

---