You are here: Home » The Marketing Diary » October Archive
October
More Notes on Speaking - Doing the Best You Can
What happens when your PowerPoint presentation is missing? Could it be the best session of your life?
This time, however, the audience took me by surprise. Evidently, they weren't marketers. Even worse, they were the users --- the target audience we're marketing to with that project.
An interesting debate on the presumable death of marketing has been taking place over at the Customer Management Zone (previously CRM-forum.com) at Insightexec.com for the past few months. It all ended (or has it?) in an exciting climax in London. Approximately 100 people gathered there to debate on the future of marketing.
I gave a two-hour lecture on the future of marketing at the Gea College of Entrepreneurship last week. What surprised me most was the fact that most people are not only not ready for the future, but also do not understand that marketing, due to constant change, is an ever changing field.
Management Still at the Top of The List
I recently started managing the internet department of the largest (and only) daily business newspaper in my country. Surprisingly, management still tops marketing when it comes to the basics of success ...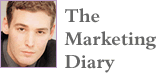 Read about real-life marketing and project management experience, views and results. Follow our projects and see what worked and what didn't and especially what you can learn from our mistakes and successes.
Edited by Rok Hrastnik
Unleash the Marketing & Publishing Power of RSS

The e-book that is defining RSS marketing.