You are here: Home » The Marketing Diary » April Archive
April
Using the Reality Show Approach as a Marketing Vehicle
Since advertising is starting to fail (is it?), companies need new ways of breaking through the clutter. The US airline company Southwest Airlines apparently found just the thing ...
Fall of Advertising and the Rise of Informational Marketing
Advertising-based marketing is slowly coming to its end and this is the best time to be in marketing yet. As the public opinion on advertising is getting more and more negative with every ad they are forced with, we are faced with the challenge of breaking through the clutter and re-discovering the permission marketing model ...
Design, HTML and CSS for Marketers
Marketers aren't designers or techies, right? Well, at least to some extent it is useful to be one, as I learned once again from developing the MarketingStudies.net web site.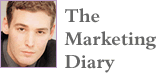 Read about real-life marketing and project management experience, views and results. Follow our projects and see what worked and what didn't and especially what you can learn from our mistakes and successes.
Edited by Rok Hrastnik
Unleash the Marketing & Publishing Power of RSS

The e-book that is defining RSS marketing.