You are here: Home » The Marketing Diary » Column: Direct-to-Desktop Marketing » Profitable Blogging: Successful Online Advertising Strategies For Independent Publishers
Profitable Blogging: Successful Online Advertising Strategies For Independent Publishers
Robin has an excellent article on how independant publishers can generate revenue streams from their blogs.
[ ---- Advertisement ---- ]
Earn Money With Your Blog
Monetizing blogs is one of the latest trends on the Web. Bloggers make money by publishing third-party ads. To get the most out of your blog, you should get more traffic. The most cost-effective way is to achieve high search engine ranks. And that's where
Web CEO
comes into play. This all-in-one SEO software finds the best keywords, optimizes your pages and gets a top search engine placement for your blog. 99000 people rely on it.
Download your copy of Web CEO Free Edition!
The article is an absolute must-read, but you can take a quick look at the items Robin lists here:
1. Google AdSense
2. Blogads
3. Amazon Associate
4. Text Links
5. Premium Content Sponsorships
6. Related Reports
7. Affiliate Sales
8. Online Guides and E-Books
9. Bookstore Distribution and POD Publishing
10. Merchandising
11. Collections - Anthologies - Compilations - Curated content on CR-ROM
12. Paid Assignement
13. Donations
More information and detailed explanations here.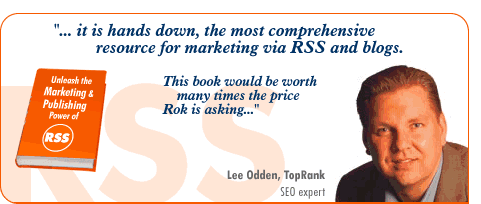 The Transparency Police: Are You Clean?

E-mail Spam, Sensitive Keywords and the Future

Spam Slams E-Mail and Even Web Use

Blogger Comes Under Scrutiny for Being Commercial

The Truth About E-mail Marketing?

RSS as a Change Agent: The Macroview

Special Report: The Marketer's Introduction to RSS Content Delivery Power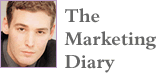 Read about real-life marketing and project management experience, views and results. Follow our projects and see what worked and what didn't and especially what you can learn from our mistakes and successes.
Edited by Rok Hrastnik
Unleash the Marketing & Publishing Power of RSS

The e-book that is defining RSS marketing.

Directly Grabbing RSS Subscribers and Getting Syndicated Through Pheedo RSS Advertising

Why is Everyone Missing the RSS Transactional Messaging Opportunity?

Is Amazon Missing the RSS Advertising Opportunity?

Will Yahoo! Pipes Increase Content Theft?