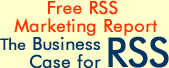 Get the free crash-course in RSS marketing, to find out exactly how you'll profit from implementing this new technology.
Covers everything from RSS for direct marketing to using RSS for SEO.
The RSS Cases Blog
The RSS Cases Blog brings you RSS technology advice, helps you understand RSS technology issues and explains different RSS business cases.
You are here: Home » The RSS Marketing Diary » RSS Advertising » All Not Well in RSS Advertising Land?
All Not Well in RSS Advertising Land?
[new post update at the bottom]
Following my post about Dick Costolo of Feedburner publicly stating that RSS feeds with ads are not losing subscribers, based on the many thousands of feeds Feedburner manages, several publishers stated just the oposite.
First was Todd Cochrane:
"Apparently the CEO of FeedBurner says that people are not un-subscribing from feeds that have Google Adsense ads in them. I am sure they are TRACKING your subscribers very CLOSELY. I talked to several people who have put RSS Ads in their feeds, and guess what, they lost subscribers no specific numbers. More importantly I have been told by at least 6 website owners that are running ads on their RSS feeds that subscribers are not clicking on the Ads! click through is as low as one or two on a 100,000 views."
Then Robin Good added his own comment to the original article:
"I am unable due to the RSS infrastructure I use to tell with precision whether, as a conseuqence of those ads, there has also been a singificant drop in RSS subscribers to my feed. The impression, which could be wrong, is that there has been a drop which is reflected in both overall traffic to the site and in lowered metrics for Google AdSense inventory during those same days."
What's your experience?
[Update#1 2005-06-13]
Richard MacManus joins the debate on the IonRSS blog, stating some interesting observations, but most especially:
"Firstly I experimented with Google Adsense in my RSS feed for about a week and the results were underwhelming. Hardly anybody clicked on the ads and I think the main reason for that was the ads were not at all contextual to the content of my posts. Which kind of defeats the purpose of having ads in an RSS feed - if they're not contextual to the content that people have subscribed to, well of course your readers are not going to click on the ads. So I have to say I was pretty disappointed in the lack of contextuality, especially coming from Google."
"The real issue is that the current implementations of RSS adverts are simply not good enough yet. Ads in feeds need to be much more targetted, much much more contextual, and (perhaps more controversially) I'm suggesting that RSS ads need to be branded closely with the site's content."
I certainly agree with Richard.
But there's much more to his post, so do take a look.
[Update#2 2005-06-13]
Just found this most recent news article from InfoWorld on the topic of RSS advertising and where they are taking it. Well, after two years of RSS advertising experiments, they just released full-text feeds to start serving 336x280 ads from DoubleClick.
[Update#3 2005-06-14]
Robin Good joins the discussion at his blog, wondering RSS is going in the wrong direction with traditional advertising models.
"As I see it, RSS greatest drawbacks, may be due in good part to our stubbornness at wanting to apply old ways of doing things to new technologies. This is often inappropiate and can also lead to many people ending up with a distorted picture of what RSS is and how it is best used."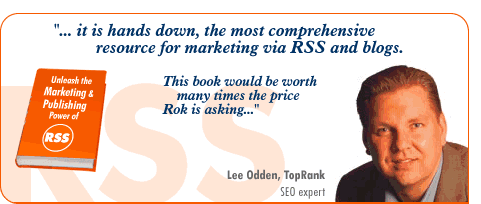 How to Buy RSS Advertising: Setting the Stage

Google Pushing RSS Advertising Patent: Are These Guys for Real?

FeedBurner Bringing RSS Advertising to Europe

Washingtonpost.com Launches RSS Advertising

New RSS Advertising Case Study from MarketingSherpa.com

RSS Metrics Focus: Interview With Dick Costolo and Stuart Watson, Part 2 - RSS Advertising and Specific RSS Measurements

All Well in RSS Advertising? Pheedo Jumps In

It's Official: Ads in RSS Feeds Do Not Turn Away Subscribers

Huge Interest in RSS and Blog Advertising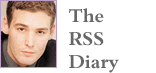 Latest RSS marketing and RSS publishing news, commentary, advice and developments. Your primary source for RSS marketing information and marketing development.
Edited by Rok Hrastnik
---
RSS Feed for this Blog:
---
Unleash the Marketing & Publishing Power of RSS

The e-book that is defining RSS marketing.
---
---